One of my fave bboy dvds ever, I bought this in America in 2004. It still shines today. The name Detours comes from the path less travelled by most bboys, aka dont follow others and focus on an original style.
The 4 people the film focuses on are examples, B-boys Kujo, Rawbzilla and popper Elsewhere and fusion dancer Midus.
Interspersed are segments of other dancers who are known for their original stand out style, of which theres loads here.
A very worthly download. Props to svetliodance for the up.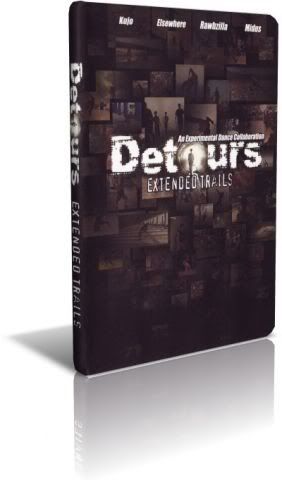 Year: 2004
Units: Kujo, David Elsewhere, Midus, Rawbzilla
Duration: 177min
Video: MPEG2 720х480 NTSC 4/3 30fps 8000 Kbps CBR
Audio: AC3 448 Kbps CBR 6 channels
Size: 4,13 GB
http://rapidshare.com/files/252293718/Detours_DVD_svetliodance.part01.rar
http://rapidshare.com/files/252293682/Detours_DVD_svetliodance.part02.rar
http://rapidshare.com/files/252293904/Detours_DVD_svetliodance.part03.rar
http://rapidshare.com/files/252293642/Detours_DVD_svetliodance.part04.rar
http://rapidshare.com/files/252293937/Detours_DVD_svetliodance.part05.rar
http://rapidshare.com/files/252293801/Detours_DVD_svetliodance.part06.rar
http://rapidshare.com/files/252293606/Detours_DVD_svetliodance.part07.rar
http://rapidshare.com/files/252961140/Detours_DVD_svetliodance.part08.rar
http://rapidshare.com/files/252961215/Detours_DVD_svetliodance.part09.rar
http://rapidshare.com/files/252961046/Detours_DVD_svetliodance.part10.rar
http://rapidshare.com/files/252960985/Detours_DVD_svetliodance.part11.rar
http://rapidshare.com/files/252961554/Detours_DVD_svetliodance.part12.rar
http://rapidshare.com/files/252961345/Detours_DVD_svetliodance.part13.rar
http://rapidshare.com/files/253325730/Detours_DVD_svetliodance.part14.rar
http://rapidshare.com/files/253325870/Detours_DVD_svetliodance.part15.rar
http://rapidshare.com/files/253325868/Detours_DVD_svetliodance.part16.rar
http://rapidshare.com/files/253325858/Detours_DVD_svetliodance.part17.rar
http://rapidshare.com/files/253325950/Detours_DVD_svetliodance.part18.rar
http://rapidshare.com/files/253325963/Detours_DVD_svetliodance.part19.rar
http://rapidshare.com/files/253325896/Detours_DVD_svetliodance.part20.rar
http://rapidshare.com/files/253324435/Detours_DVD_svetliodance.part21.rar
p/w http://www.breakboy.net/