Video: Xvid 640×356 29.97fps
Audio: MPEG Audio Layer 3 48000Hz stereo 160Kbps
Archive Size: 2.03 GB
Source: DVD
Length: 2:36:20
2008 Finals Of The DMC World DJ Championships On DVD.

Eliminations
Never seen before footage of 27 of the worlds greatest DJs who have fought their way through their national championships. They face one more battle for a place in the World DJ Finals!
World Final
Witness the worlds greatest 12 DJs battle it out for the coveted title and the chance to win the Technics Golden Turntables and $10,000 cash prize courtesy of Ortofon.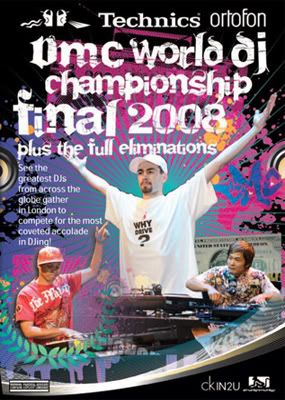 http://rapidshare.com/files/216778397/DMC_DJ_CWF_2008.part01.rar
http://rapidshare.com/files/216789579/DMC_DJ_CWF_2008.part02.rar
http://rapidshare.com/files/216801167/DMC_DJ_CWF_2008.part03.rar
http://rapidshare.com/files/216836599/DMC_DJ_CWF_2008.part04.rar
http://rapidshare.com/files/216853000/DMC_DJ_CWF_2008.part05.rar
http://rapidshare.com/files/216870015/DMC_DJ_CWF_2008.part06.rar
http://rapidshare.com/files/216888934/DMC_DJ_CWF_2008.part07.rar
http://rapidshare.com/files/216919711/DMC_DJ_CWF_2008.part08.rar
http://rapidshare.com/files/216939749/DMC_DJ_CWF_2008.part09.rar
http://rapidshare.com/files/216960978/DMC_DJ_CWF_2008.part10.rar
http://rapidshare.com/files/217027337/DMC_DJ_CWF_2008.part11.rar
http://rapidshare.com/files/217047845/DMC_DJ_CWF_2008.part12.rar
http://rapidshare.com/files/217069037/DMC_DJ_CWF_2008.part13.rar
http://rapidshare.com/files/217089829/DMC_DJ_CWF_2008.part14.rar
http://rapidshare.com/files/217109436/DMC_DJ_CWF_2008.part15.rar
http://rapidshare.com/files/217126974/DMC_DJ_CWF_2008.part16.rar
http://rapidshare.com/files/217141704/DMC_DJ_CWF_2008.part17.rar
http://rapidshare.com/files/217154260/DMC_DJ_CWF_2008.part18.rar
http://rapidshare.com/files/217166341/DMC_DJ_CWF_2008.part19.rar
http://rapidshare.com/files/217177299/DMC_DJ_CWF_2008.part20.rar
http://rapidshare.com/files/217193497/DMC_DJ_CWF_2008.part21.rar
http://rapidshare.com/files/217200290/DMC_DJ_CWF_2008.part22.rar